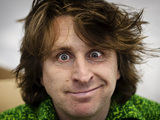 For anyone who doesn't listen to Radio 4 comedy,
Milton Jones
is probably best known as the oddball comic who sometimes sits on the end of the
Mock the Week
panel cracking one-liners.
Jones gets the chances to showcase that there's more to him than wacky hair and deadpan humour when he moves from radio to TV this week with one-off sitcom
House of Rooms
.
Digital Spy
caught up with Jones to talk about the show and his thoughts on
Mock the Week
, Frankie Boyle and the British sitcom.
What is House of Rooms about?
"It's me and mother with lots of tenants. We've been living there for ages and we need the tenants for money. I'm an idiot, obviously. My mother tolerates me, but she is a failed actress. Basically, I'm the thing that stopped her career, so she is eternally resentful to me. I'm very thick skinned and I create havoc with the tenants. That's it in a nutshell.
"If I had to put it in one of those dreadful, so-and-so meets so-and-so lines, it would be
Rising Damp
meets
Mr Bean
. That's terrible. It's big and physical. There's a lot of physical humour rather than clever wordplay. It's visual jokes."
Is it quite a traditional sitcom?
"Yes, sort of. Except it's non-audience. The film techniques they use make it seem more like a film than a sitcom. There is slow-motion and fast-motion, dark lighting... this isn't a totally old school sitcom. There is a hint of
Spaced
thrown in as well. I'm doing all those terrible things where you compare shows. But it definitely feels like it's of 2012 rather than 1974."
It sounds fairly mainstream and BBC rather than late night Channel 4?
"It could be. But what makes it different is the oddness of it, the way it's shot and the strange things that happen. Without giving it away, I end up strapped to the underside of a bed trying to eat chocolate off the floor while men are fighting on the bed. It's difficult to explain how I got there. If there was a series, each episode would build to a big physical climax. I suppose there's a hint of
Some Mothers Do 'Ave 'Em
.
"I don't suppose anyone has been involved in a project that they didn't think was really good. But I am proud of it. It's more than just jokes strung together. It's like a human cartoon almost, without the sound effects for people running. It's not naturalistic and we experimented with that. The house is real and the setting is real, but I'm more of a cartoon character, I'd say."
Are you a fan of British sitcoms?
"Broadly speaking yes. I was watching
Dad's Army
the other day and it's pretty timeless. The acting is the strength. Every generation, people say it's not as good as it used to be. But 10 years later, we are saying the same thing. There's a large slice of nostalgia that goes along with sitcoms. But I think the British sitcom is a pretty healthy scene. Comics always complain that TV people don't know what they're doing and maybe they don't, but
The Office
got through eventually,
Father Ted
got through eventually. Things do get through. It's just a heavy process to get there, which can be frustrating."
You're quite old to be described as a newcomer. Is it strange to have that title?
"It is odd. But the TV break has eluded me so far. It is partly typecasting. If people think of you as the radio guy, you can get stuck in the rut. I'm grateful for the chance to show I can do something else. Whether I can, is something else all together."
Did Mock the Week make a big difference for you?
"Yes, it has. There is a lot more stand-up on telly in general, but
Mock the Week
is very powerful. It introduced me to a new generation of viewers. Now goths come along to my live shows. That never used to happen! It's not an easy show to do, but it has been great for my career."
Do you find it tough on that show as an old-fashioned one-liner comic?
"I don't think anyone finds it easy. You have to go in with bullets in your gun and most of your bullets end up on the cutting room floor. It's not easy, we've all got ideas and jokes ready to go, but you have to fight to just get your words in. I'm quite lucky that I can get in, chuck a grenade and get out. Some other comics take more time to get motoring. I don't say much, but when I do, it usually counts."
The show gets a lot of stick for being too macho. Is that fair?
"Because it's such a powerful show, it's easy to attack. But it just reflects the circuit. There's a broader question than
Mock the Week
about the numbers of women in comedy. Jo Brand and Sarah Millican refuse to do it because they've got bigger fish to fry. The level down from that, some of them don't want to do it. I do think with Frankie Boyle and Russell Howard not on it anymore, it's got less competitive.
"I did one recently with Holly Walsh and she said that she enjoyed it far more than previous times and that it felt like a different show. People are standing back more. I think maybe there was too much testosterone on the show. I think it's moving in a different direction. Someone said the idea about dogs fighting. It makes good television, but if you're on the end of it or a performer in it, it can be quite painful."
What did you make of Frankie Boyle's move away from Mock the Week. Was his solo show on Channel 4 an error?
"It's a strange thing. I'm at the risk of digging my own grave here, but
Mock the Week
serves comedians well because you get a short burst of them. Someone strong flavoured like Frankie does well when it's highlighted next to other styles. I think it's harder when you have half an hour of relentless darkness. I know Frankie's having another go at something on Channel 4, but he's finding the right format that works for him.
Mock the Week
is punchline comedy and people can do joke, joke, joke. You can't do that for half an hour for one person. Visually and humour-wise it's too monotonous."
How do you go about learning your one-liners for shows?
"Like a pig sniffing for truffles, I usually come across a subject or idea and have a feeling something is in it. But when I pin it down, I try to put it in as few words as possible and that usually works as a one-liner. I then to try learn them all and whittle them off when appropriate. Sometimes I make things up there and then, but generally I'm very structured. I sit down at 9, work through to 12, just thinking about ideas. I don't tend to busk ideas. It is a methodical approach. There's no shortcut for hard work unfortunately."
Do you have a Bob Monkhouse-style book of gags?
"Sadly not. I have lots of bits of paper. I wish I had something more systematic. I do a lot of new material nights and throw things at the wall and see what sticks. That's the only way, I find."
Why do you choose to do one-liner comedy?
"To begin with, I was so terrified, I needed to get to the joke as soon as possible. Also, I don't have a very long concentration span, so I get frustrated by shaggy dog, long-winded stories. But it is harder to sustain that over a long show. I have to extend what I do with characters, props and over-head projectors to take people's eyes off the words for a bit. There are still one liners, but I have developed ways of changing the perception of where they are coming from. Five minutes on TV really suits me as it's bang, bang, bang, goodnight. An hour or so with music and lights is a lot harder."
Is it true that you actually started out as an actor?
"Years ago that was what I wanted to do. I did tiny bits of acting 20 years ago, but stand-up gradually took over. I've done tiny things since then, but it did feel strange and rusty going back to acting for this show. It feels great though, because stand-up is lonely. Acting is part of a team and you build something together that you couldn't do on your own."
Milton Jones's House of Rooms
airs on Friday, January 13 at 10.30pm on Channel 4.