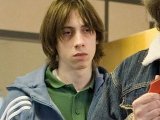 Steve Coogan made a comedy comeback this summer as angry pest controller Tommy in
Saxondale
.
Rising young actor Rasmus Hardiker - previously seen in
The Rotters' Club
and ITV's
Afterlife
- starred as Tommy's naive protege and assistant Raymond.
Here Rasmus talks to DS about filming the series and getting the chance to work with a comedy legend.
How successful do you think the show was?
"It depends how people perceive it, really, because it's quite... in terms of comedy, it's quite a niche market, based on what Steve Coogan's done in the past. Alan Partridge etc... it's probably unfair to compare. I've loved it, and the feedback I've had has been great, really positive. I've really enjoyed it. It's different to when you're filming and you get a rough idea of what it's going to look like and the funny moments, but when it comes to TV, it's slightly different to how you'd imagined it."
How would you describe your character?
"On the surface, he's a really nice guy. He's a bit slow and not really always up on the situation at hand, but in other respects he's actually, I think, a lot more intuitive than Tommy, 'cos Tommy has a really short fuse and will let his emotions get the better of him when it's not always appropriate. Raymond keeps a very cool head, he has composure. That helps Tommy get along, and the relationship's grown as the series has gone on. I think that's really shown. It's not obvious that Tommy depends on and values Raymond at the start of the series, but.as it goes on it turns out that they have this really nice relationship and a lot of banter."
How did you get this role?
"I was filming Much Ado About Nothing, one of the BBC's Shakespeare Retold last April. My agent called and asked 'Are you a fan of Steve Coogan?'. I said 'definitely', they said 'they want to meet you for this pilot that they're doing'. I went along to the meeting, and it turned out that Steve had seen the Rotters Club, which was a show I'd been in earlier that year, went along to the audition, did some improvisation based on a scene and went away. Agent called and said [I had] the part of Raymond in the pilot. We shot the pilot in about a week in the Watford area and I thought it was brilliant. You never know with these things, pilots, sometimes they're not made, and it's a little bit complicated. But Steve Coogan's got a gravitas, he's very well established already [so] I thought that might have some kind of weight to it. Luckily it turned out for the best and we got a series."
In the show, your character learns a lot, whether you want to or not, from Steve Coogan's character Tommy. In real life, have you found likewise?
"I have, absolutely. Doing it is great - as I said, I watched Alan Partridge and a lot of the stuff he'd done before growing up, that's what I really wanted to do. Growing up and having an opportunity to do that is a dream come true. I think on any shoot you learn a lot, anyway. In every line of work, you never stop learning, really. On
Saxondale
, Steve brings another aspect to that. He's very focused, he'll come up with ideas constantly and you think - 'well, how's he got from that conclusion to that decision' or vice versa? Then you see the cogs in motion, so to speak, and how his ideas develop, so absolutely, I learnt a lot."
Who else do you admire that you'd love to work with as well?
"Ooh, I dunno, I admire a lot of comedians, obviously huge names - Seinfeld, and all those sitcom-y things. Obviously Ricky Gervais, Lee Evans, Jack Dee - I have had the opportunity to work with Jack Dee in a series which will be coming out at the end of September which I'm looking forward to seeing. But also I'm a big fan of
24
- Kiefer Sutherland. There's a lot of the people I admire that I'd like to work with, and there's a lot of people that I've worked with that I admire."
Can you tell us anything about the series you worked on with Jack Dee?
"It's called
Lead Balloon
and I think it's airing on BBC3. It's got that very similar minimalist feel about it that Curb Your Enthusiasm has. I wouldn't compare it to that because again it's quite a different type of comedy, but the structure of it and the way it's shot is very similar to that. I think people will really enjoy that a lot."
Have you heard anything about a second series of Saxondale?
"I haven't yet but I'm keeping my fingers crossed. I would imagine, because I think it's been well received - I don't see any reason why there shouldn't be a second series, no!"
Just moving away from Saxondale, can you just tell us a little bit about yourself away from the acting?
"I live in Birmingham, I travel a lot for auditions and various things. I guess I'm pretty boring, actually. I like to play basketball occasionally, I like to play pool, just socialising with friends when I've got the time. To be honest with you, auditioning and working leaves me very little social time away from all that. I like to spend time with my friends. I do like to socialise [and] you meet various people working, too."
Do you get recognised a lot on the street?
"I do occasionally yeah, and it's very bizarre. I went to Pizza Hut last night with a couple of friends that I haven't seen for ages. This little girl came up to me and said 'my friend wants to know if you're the guy from the Nationwide advert'! I said, 'oh, yeah', and had a bit of a giggle. It's flattering, it's cool and very weird, as well."
Reviewing the Rotters Club, one critic said that you had "a face even more interesting than your name". What do you make of comments like that?
"I love that kind of comment. Funnily enough at an awards ceremony [at school], a teacher gave me an award and said something along the lines of 'he's got a very interesting face'. Rubbery face is the selling point!"
Do you tend to read much about what people say of the shows you're in?
"I don't really, I'm useless with reading the papers. My folks keep an eye out, say 'ooh, you're in this, etc'. I'm terrible about reading news and such on the whole."
I see you're in a pilot for a show called Bash, what can you tell us about that show?
"The pilot for that was shot about a couple of weeks ago. I play a character called Neil. Essentially the pilot revolves around this character Spacey and her relationships and her friends, and she has a Halloween party but things go wrong. A lot of things get misconstrued... it's quite situational comedy in that sense. My character is this 17-year-old kid who's a bit of a bad kid, in a way. He doesn't express himself particularly well, and he's essentially a Nazi, basically, and he doesn't care what other people think of him. He'll mention this ghost costume, he'll point out it looks like a Ku Klux Klan outfit, everyone's shocked and looking at him and he's none the wiser, no one bothers him. He's quite happy to voice his opinions no matter whether they're politically correct or not."
Do you know when that's going to be airing?
"I don't, to be honest. I think it will be autumn time. Definitely on BBC3, I think it will be autumn time. It was good fun shooting it. Made in one day, in this one house with lots of cameras. It was very fast, quite well-rehearsed and technically sound. It had to be, because if I was going into another room, there had to be camera continuity for another shot. It was all quite technically complicated. I think that will add to the pace of it. Hopefully people will enjoy that a lot."
Other than Lead Balloon and Bash as we just mentioned, do you have anything else in the pipeline?
"I just finished a film called
I Want Candy
, which should be in cinemas beginning of next year. It's essentially a film about these guys trying to make a film, a student film, they want to make films for their career. They approach various production companies, and no one's having it, they get booted out, they finally find this one... unfortunately, it's an erotic film production. So they bite the bullet and attempt to make this porn film. It all goes a bit wrong. It happens, then it doesn't happen. I can't wait to see it. I hope it all turned out all right. It was good fun shooting it."
Finally, you've worked with Steve Coogan, comedy legend, you must have had a lot of laughs on set. What's the funniest thing that happened to you on set?
"I just don't know where to begin, to be honest with you, there's just so much. I don't know what it was that tickled me about it, but there was a scene where Raymond and Tommy are shooting cans in the wood. Basically, because the camera had to pan directly in front of us, we couldn't have real bullets in the gun. Every member of the crew had about 3 or 4 strings, and when Tommy shot the pistol, they had to move these cans very quickly. It was all very comical to begin with, 'cos we were trying to get the numbers right for the cans to move in order. All the crew would shout out their numbers, and we couldn't get it right. It was just comedy from the word go. But on the last can, there was something about it, it didn't look right, it just hovered in the air. Being there in that moment, it had me in hysterics. The beauty of
Saxondale
is that there's this marriage between very intellectual comedy and banter and then any given character will turn around in that instant and do something physical and slapstick. It's that marriage that draws a lot of the audience."
Thanks for chatting, Rasmus!