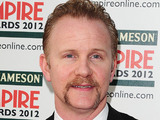 Morgan Spurlock
- the documentary filmmaker and humorist best known for his 2004 movie
Super Size Me
- is taking on a new role as host of Sky Atlantic's topical comedy show
New Britannia
.
Each week, Morgan will be joined by a variety of guests to examine and dissect the eccentricities of British culture.
Digital Spy
caught up with the man himself to discuss the show, his love of Britain and how the spectre of
Super Size Me
still looms large...
How did this show come about?
"Glory all be to Mark Sammon in his infinite wisdom - he was... a commissioning editor at Sky. Originally he was at Virgin and I met him about a year and a half, two years ago. I came over doing the rounds, just meeting with a bunch of different networks.
"I met the guys at Thumbs Up Productions, who are our producing partners on this show. And I'd met with a couple of different companies, trying to find a producing partner to do some series with in the UK. I met those guys, I liked them very much, they'd done
Britain's Next Top Model
, they were looking to grow their company as well, so it kind of made sense for the two of us.
"Mark Sammon at the time was a commissioning editor at Virgin. Virgin got scooped up by Sky and he, [Sky Atlantic execs] Stuart Murphy and Elaine Pyke started talking about what shows they wanted.
"They thought, 'We should try and think of a face for our network, somebody who could create a chat show that could be funny and smart', and [Mark] said, 'We should meet with this guy who I met two years ago' - so God bless that guy for remembering!"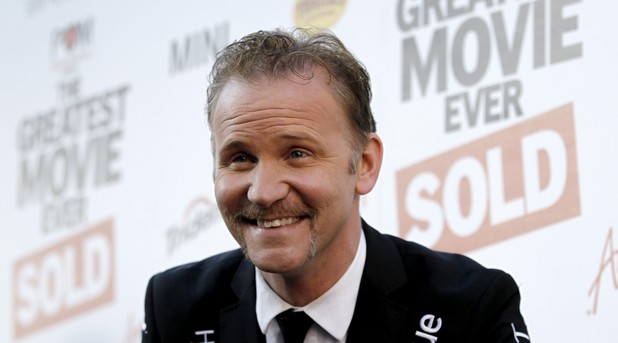 What appeals to you about British culture and society?
"There is a tremendous amount of cleverness in Britain and... in British television, and insightfulness and cynicism and sarcasm. Things I grew up very much embracing - being very cynical and sarcastic. My mum raised me watching a load of British comedy as a kid and I think this made me have this real affinity to Britain.
"I didn't even come here till I was in my 20s and even then, the first time I came over, I really felt at home. I really liked the people, I really liked the culture.
"I liked that no matter where you are - even if you're out in the country - there's a tremendous amount of humour that exists within people who are here. Maybe that just comes from years of beating yourselves up, I don't know - of telling yourselves how inadequate you are. There is a great sense of humour."
New Britannia is chiefly humorous but does have some serious points to make. Are you hoping it will change opinions?
"I really believe that if you can make someone laugh, you can make someone listen and I think through humour you can open the door to a larger conversation. So I hope that through this show, some deeper conversations happen.
"You can laugh at some things, you can laugh at yourself, you can laugh at us [in America] cos Americans do silly things just like you guys do, but hopefully it will lead to some good watercooler conversations the next day."
Do you feel like you've learnt anything from doing the show?
"Yeah, there's so many things that the show opens you up to. For me, being from the States, the whole idea of a class system I'm fascinated by - the fact that it still exists here. In the States, the class system is very much a divide based upon money. I guess there's a power divide but it's not the same - it's still very much is based in financial gain more than in hereditary gain.
"So we do a whole episode about class, kind of exploring this issue. People love to say, 'Oh no, the class system doesn't exist anymore', but it's completely untrue. We all know that it does and to peel back the onion on that topic was a lot of fun."
Watch the trailer for 'Morgan Spurlock's New Britannia':
Overall, what's the show's stance on Britain? Is it critical? Is it a celebration?
"It's a celebratory criticism of all things British! I love it here, just like I love America, but at the same time, when you do find an affinity towards things, you say, 'This could be done better', or 'We could talk about this, this is an issue'.
"Things are never perfect so that's why you need to explore the imperfections in a way that doesn't block people out. If somebody starts hectoring you or talking down to you, you'll just shut down immediately. I think you want to engage somebody in a thought-provoking process."
Do you think anyone could be offended by the show - it is quite close to the bone at times...
"Sure! I think if it's not offending somebody then maybe we aren't doing our job. You can't please everybody. I think you need to come into it knowing you can't please everyone.
"But I think that over the course of the show, you hope that you embrace everyone at times and you push other people away at times. Sometimes you'll be like, 'I can't believe he said that', but even then you'll want to still be a part of the conversation. But I hope we're not offending everybody."
You currently reside in New York City. Could you see yourself living in the UK?
"I would love to, I spend a lot of time here now already, but to live here full time would be hard. My little boy's mum and I aren't together anymore, so [I'd face] the idea of not being able to see him as often as I like. He's in school in New York now but I bring him over as much as I can.
"I want him to understand what I love about Britain so much and I try and make him understand what I love about the world. I try to take him as much as travel I travel as possible. That's the greatest education you could have. He's travelled more at 5 and a half than I'd travelled when I was 25 and a half. What this kid has seen is amazing."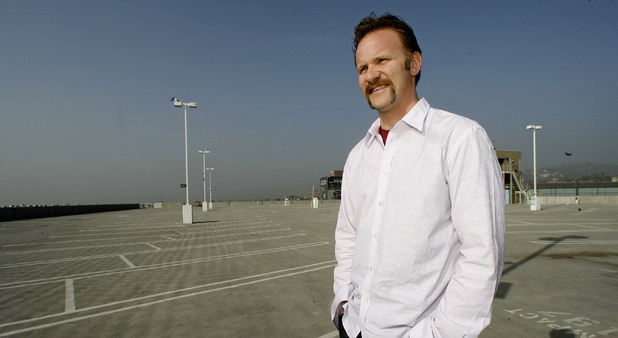 Do you find that the spectre of Super Size Me still looms large?
"Oh completely, I talk to people about it all the time. That film really affected people - in a good way. It really made us all really take a step back and think, 'Wow, I need to pay more attention to how I live, how I eat, how I exercise. What I do for myself, for my family, my community, whatever it may be'.
"So yeah, that's one of the things people still have an affinity and an affection towards. There's not many documentaries that continue to still circulate and play. Just last night, I was at an awards show and met an actor's kids and they'd just watched
Super Size Me
in school.
"So to create this movie that is part of a curriculum... and parents still show it to their kids, so I meet kids who just watched it in school or meet parents who say, 'I just showed it to my kid, so he could see why we don't eat there' - it's amazing."
What's coming up for you next?
"After
New Brittania
is
Comic Con Episode IV: A Fan's Hope
which is an inside look at the pop culture Mecca that is San Diego Comic Con. We follow seven different people into this geek Mecca of San Diego and it's amazing.
"It was the biggest film I've ever made - we had a crew of 150 people working on the movie. We produced the film with Stan Lee, the creator of Spider-Man and Thor and The X-Men, and Joss Whedon, the creator of
Buffy the Vampire Slayer
and the director of
The Avengers
, Thomas Tull, the CEO of Legendary Pictures and Harry Knowles, the God of all fanboys who created
Ain't it Cool News
about 15, 20 years ago.
"It's this great little geek dream team that kind of came together to make this film and it's really awesome. The film came out a thousand times better than I could have ever hoped."
You've also worked on a documentary called Mansome?
"Mansome - that is a man who is both manly and handsome. We're finishing that movie right now and that will premiere at the Tribeca Film Festival on April the 21st. That's a film we did with Will Arnett and Jason Bateman. It's all about the world of male grooming and how ridiculous it can be and how we all succumb to it at times. Zach Galifianakis is in the film, Judd Apatow, Paul Rudd - it's great."
Morgan Spurlock's New Britannia begins on Monday, April 2 at 10.10pm on Sky Atlantic HD and on the move with Sky Go.