0
TV Interview
'Silk' Neil Stuke Q&A: 'You may see a softer side to Billy'
Silk
's back tonight... and of course you can't have a chambers without a clerk! That means we get to say hello again to Billy, played by
Neil Stuke
. He survived the attempted coup last series but what can we expect this time round?
To find out,
Digital Spy
caught up with Neil on set to talk about Billy's "nefarious" deals, why he wants a Martha-Billy romance, and why he thinks
Silk
has been such a success...
Are you glad to be back?
"Yeah, definitely. Yeah, yeah, yeah. It's good. Very good. It feels really good."
What can we expect for Billy this series? A faction tried to get him out last time!
"There was a coup, yes. Yeah. No, Billy stays and that's that. So I don't really know what happens, I can't really tell you!"
Billy has a lot of power though.
"He runs everything basically, so there's just more of that, really. And getting rid of the people involved in the coup and starting again, yeah!"
We've seen Billy's not averse to a bit of bad behaviour - will we see more of that?
"It's not too bad so far. A bit of wheeling and dealing, you know. A bit of underhand, nefarious deals here and there!"
What can you tell us about the relationship between Billy and Phil Davis's character?
"He's a solicitor, yeah. I think they've got a mutual respect for each other. So they're both pretty hardnosed characters. The thing is being a solicitor, we have to kind of court him, so there's a certain amount of Mickey getting the upper hand on Billy. So it's quite interesting. But they're very similar."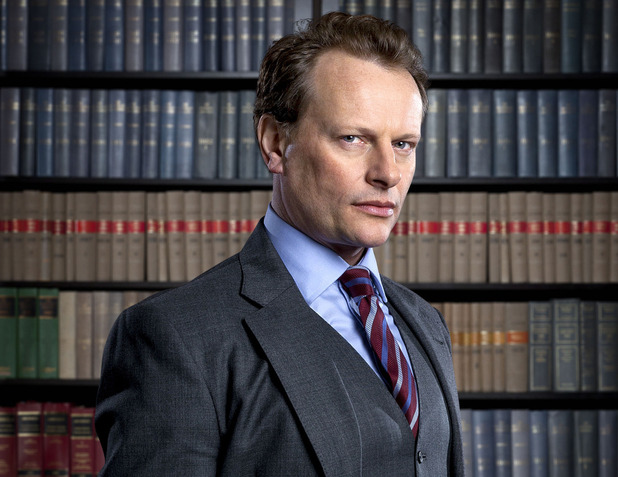 Mickey works for a criminal family... It doesn't sound like Martha would be happy with that.
"I'm not sure Martha's keen to work with Mickey full stop, really!"
Do you think Billy is happy Martha got silk?
"She was his favourite, for sure. But you know, he's been with Clive Reader for 17 years. They've all been together as a team. So I'm sure he'd like to see Clive as a silk as well. But don't forget Clive was possibly going to be the shiny new silk at the other break-off group's chambers."
We've heard there's a dilemma about whether the chambers should do more prosecuting - what's Billy's take on it?
"Billy's stance is that they are just defending only, and that's how we should be. So that's causing a bit of tension between Alan Cowdrey, who's the head of chambers, and myself."
Have you had much of a response to the show from members of the legal profession?
"Yeah, I mean I've got quite a few lawyer friends and they've said the clerks really love it. They really like Billy and they thought it was a good portrayal. Quite a few people have said that they've got clerks that are similar and a friend of mine who's a lawyer works at Peter's Chambers and knows the clerk that Billy was based on, who isn't there anymore. But it was based on this kind of legendary clerk."
Do you think there's a danger that Billy can only walk the line he's been treading for so long?
"I don't know. I thought there was a possibility that Billy was going to become hard and tough and harder drinking and all that stuff. I don't know whether that's going to happen, but I think they're trying to keep Billy very much the same as the first series, really. I was quite shocked with how far we took it in the first series - I was worried that it was too far."
In what respect?
"I thought it could potentially be a bit unbelievable but actually it wasn't at all. That was my own insecurities as an actor! And I think they just want us to carry on making sure that it does sort of walk that line."
He's very good at his job.
"Well, yeah. And he cares passionately about the chambers, which is really important, I think!"
Did you have anyone that you had in mind when you were playing Billy?
"Not really. I mean, he's an amalgamation of various different people but I remember trying very hard to not emulate Phil Davis because I knew you lot would compare me!"
How has the set changed with stars like Frances Barber and Phil joining the show?
"I think it's great actually. We've certainly got to all step up a gear with that lot around. I think it's great. I don't have anything to do with Frances. It's only Phil, really. Indira Varma is playing George - it's really exciting, I think. Very exciting. It keeps everyone on their toes."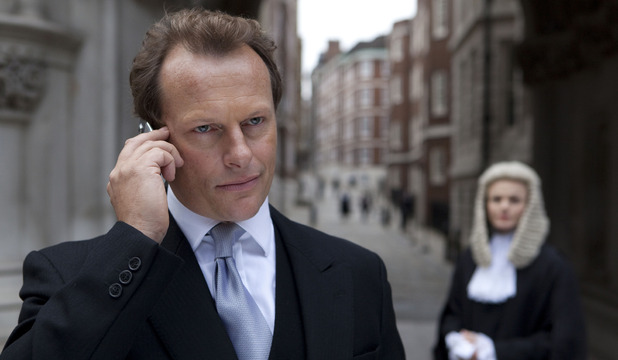 Do you think there's a nice double act with Billy and Jake (Theo Barklem-Biggs)?
"Yeah, we're sort of investigating that. We're sort of looking into that. It's quite fun, it's quite good fun. The only problem with that is he has to be believable as somebody who could potentially run chambers, so we're always monitoring how far we can go with that, because if he seems too ridiculous... Having said that, it is nice to have a bit of light relief!"
Are we going to see more of Billy outside the chambers?
"You're going to, apparently. I can't tell you! I don't think the other actors know, either... You may see a softer side to Billy!"
Are you pleased about that?
"I'm not saying anything!"
Have you ever considered going into the legal profession yourself?
"I think I probably nearly ended up in prison a few times! No, I was a bit of a tearaway when I was younger, so going to drama school was a really good thing because it sort of calmed me down a bit. When we were at chambers and stuff, we really found that they worked in a very similar way to an acting agency. The clerk was sort of the conjuror for the barristers, so the clerk would get the work for the barristers.
"And when we hung out in the offices, there were clearly people they preferred, there were clearly people who were doing better than other people, there were star players and, I quote, 'dead wood' - that's how one of the clerks described some of the lawyers! And there were people who they really wanted to retire who were refusing to retire. So there were always really interesting similarities that we found with an acting agency. And they really enjoy the competition as well, the clerks. But no, God, I's thick, innit? I couldn't possibly be a lawyer!"
Have the people from the chambers you visited given you any feedback?
"They came to the screening. I wasn't there sadly. They loved it, they absolutely loved it. I mean, they're a bunch of nutters, clerks! They are nutters. They really go for it - they work hard, play hard. They're real proper boys. Very flash, incredibly flash. I mean, they're much more flash than we are. I think if we did it exactly how they are, no-one would believe us! You think, 'My God, we're underplaying it!'"
How similar are you to Billy?
"I don't know, really. That's a very personal question! No, I'm not that hard. I'm just not as hard. I think I probably used to be. No, but he's sort of unrelentingly... Martha really likes Billy. Me and Maxine always hope that Martha and Billy, something's going to happen. I would love that. Billy's married and he's got kids, so it would be very wrong. But I think he does fancy her. She definitely fancies Billy, there's no question about that!"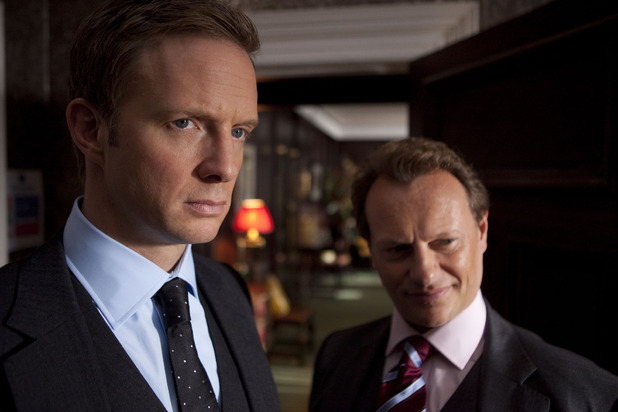 It's an interesting dynamic, since they employ Billy but he has all the power. Is that fun to play?
"We often use the word Machiavellian with Billy. I've given up saying that now! But I think it's always enjoyable in any walk of life playing somebody who's got a certain amount of power. You know, I don't know what's going to happen. I don't know whether that power's going to ebb away or whatever. I'm not sure what Moffat's got up his sleeve. It was good, I think he always tries to... People try to see how well he can cope under this kind of pressure so that's fine. I suppose it has to be like that otherwise you just get this very solid character right the way through. We try and bring a little softness into him."
Why do you think the first series captured people's imaginations?
"Oh, I don't know. I just think it's just quality drama. If I'm talking separately as a viewer and someone who pays the BBC to produce programmes, I'd say it's just quality drama. It really isn't rocket science. I think everyone's just desperate for quality and as soon as it happens people just swallow it up. I think a lot of the programmes are just intellectually not very stimulating. It's very good, don't get me wrong. It's really, really well done, great cast, all of that stuff. But I think it's as simple as that, really. You look at what happened when
Life on Mars
came out - there was an extraordinary reaction just because it was intelligent. And I don't know about you guys, but that's what I want from the BBC - I just want intelligent drama.
"It's like an Arthur Miller play. Like all great plays, you should be the jury, really watching what's happening. And I think that's a very good analogy, especially as we're doing a programme about law. One should feel like one is part of the jury, and it really has that. It's good, gripping stuff."
Nothing's black and white in Silk, is it?
"No, no that's true. And I think it does have quite a few advantages over other sort of legal dramas. I don't think we quite knew - we all knew it was good. The reaction was extraordinary. People in the street and wherever I go now just really, really love it. The only complaint we had about
Silk
was that it was only six episodes. You know straight away when a script is good for sure, but then you can do good scripts and not much happens.
"So I think we were all just thinking, 'This could be great' and luckily it was. I think we'd all agree that we'd done stuff where you think it's going to be great and somehow it hasn't ended up [that way]... I have to say the reaction to
Silk
was extraordinary and obviously I just do think it's because people are just crying out for, 'Give me something intelligent and I'll respond'."
Would you like to star in more Silk?
"Oh God yeah!"
Silk returns on Tuesday, May 15 at 9pm on BBC One.