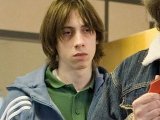 Rasmus Hardiker boasts comedy connections to make
Mark Freeland
seethe. The young actor has worked with Jack Dee (on
Lead Balloon
), Russell Brand (on
The Abbey
) and Mitchell and Webb (on
Magicians
). Now he's playing Raymond, the long-suffering assistant to Steve Coogan's roadie-turned-pest exterminator, in the second series of BBC Two's
Saxondale
. We caught up with the brilliantly-christened star to find out what it's like to be "locked" on set with Steve Coogan.
What can we expect from the second series of Saxondale?
"Basically, more of the same stuff really - but in a good way. I mean, obviously the characters have evolved and the audience will sort of know a lot more about Tommy and Raymond and stuff so I think we definitely we're able to get away with a lot more in the second series, but without destroying any of the structure we made in the first series. I think it's going to be more enjoyable on the whole and I think it's going to be funnier too."
How has the show developed since the first series?
"Well, visually Tommy looks different - it's actually Steve's real hair and beard for the most part. Plus, there are a lot of new characters - irregular characters - coming into the series. There's a lovely character called Jonathan who's played by Darren Boyd. I mean, I want to stay away from this description as much as possible, but he's kind of like Alan Partridge. We see Tommy meeting with this character, Jonathan, and it sort of you brings back fond memories and stuff like that, so it's pretty good."
When did you find out that a second series of Saxondale had been commissioned?
"Well, I was filming a pilot called
The Abbey
with (Steve Coogan's production company) Baby Cow in December, and they said: 'Oh yeah, we'll be going again in the summer.' I hadn't been sure because of Steve's schedule and all that you know."
So were you surprised to get a second series?
"To be honest I kind of expected it 'cause, I mean, Steve's reputation for comedy is great. I mean,
Partridge
is very popular, so even though the first series of
Saxondale
wasn't publicised and touted as much as it could have been, I knew that it definitely warranted a second series: you know, just to see you know things were going to go and how things were going to develop."
Do you think this series will get more of a promotional push?
"I certainly hope so because it deserves it. I mean, if no-one knows a show is going to be on, who's going to watch it? But it's obviously very dangerous because the more you sort of exploit it, as it were, the more there's a chance of people feeling a bit let down by it. You need to get the balance perfectly right."
Are there plans for a third series?
"I think there are some ideas in the works, but there's nothing definite as of yet."
What do you like about Raymond, your character on the show?
"I like everything about Raymond! I like his economy - that's sort of his selling point. In many ways he's the audience, because you see how he feels about what's going on in the scene. I like his bluntness with Tommy and their relationship together is just fantastic. Often if Tommy is trying to be metaphorical - using puns and double entendres and stuff - Raymond will just state the obvious and say: 'Well, no. This is a fact and shut up'. I love that."
What's it like to work with Steve Coogan?
"It's great. You learn a lot and you have a good laugh. You know, he's very, very good at what he does and you can really see the cogs working! Because it's his production company and his show, it's interesting to see ideas unfold and watch everyone chipping in with ideas. The rehearsals were actually quite unusual because the set would be locked off, so the crew had to disappear for half an hour until we were rehearsed. It would just make everything that had been scripted, everything that had been planned, really work and gel with very little effort."
So was the show very much a work a work in progress as you were filming it?
"Pretty much. I mean, there were tweaks pretty much every day - you should always be thinking of stuff as you go along. You never really know how things are going to play out so you always have to tweak a bit: I think that's vital in comedy as a whole. For example, if there's a very visual joke and the set is different to how you'd imagined it, then you have to change it to make it work and that's what we did."
You've worked with Steve Coogan, Jack Dee, Russell Brand, Mitchell and Webb… the list goes on. Are you expecting a call from Ricky Gervais next?
"Yup, yup, haha! I'd like one. I'd love to work with him - he's fantastic."
How did you find Mitchell and Webb when you worked with them on Magicians?
"Great. These sort of high-profile comedians are just lovely to work with in their own different ways and the comedy style is very different each time. There are subtle differences in their styles and the way of working is very, very different, so it's always good to sort of be a part of each and every sort of methodology when you're working."
Do you get nervous meeting these big comedy stars, or are you quite blasé about it now?
"You know what, I never really have been. Once you sort of get into that mindset, you ruin it for yourself because you're putting your foot in your mouth. I think if you're just very loose and relaxed people will like you for who you are and, you know, it always seems to work out. We always have a really good laugh."
Do you want to concentrate on comedy in the future?
"I'm interested in anything, really. I mean, we'll see how it goes. If there's something that I like, then I want to do it, but I have to admit that comedy is definitely my favourite genre. I just love it. I mean, you can do so much with it, and it's an art in itself really. Timing and visual gags are probably my favourites."
What projects have you got coming up?
"I have, yes. I did a pilot called
The Abbey
last year with Morwenna Banks - who's also in
Saxondale
- and that's just gone to series so we'll be shooting that in January time. And there's something coming up in the next couple of weeks which I haven't heard about yet for definite. It's called
Christmas At The Riviera
, and it's the same writer/ producer/ director as
Worst Week Of My Life
.
Saxondale airs on Thursdays at 9.30pm on BBC Two.