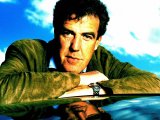 The first in a new series of
Top Gear
attracted an impressive audience to BBC Two last night despite tough competition.
The motoring show was watched by 6.1m (23.3%) over an hour from 8pm, on par with the 6m (23.3%) audience for the previous season opener in October.
Top Gear
excelled despite BBC One drawing 7.3m (29.6%) with Euro 2008 football from 7.30pm. The quarter-final coverage was extended until 10.30pm as Spain eventually defeated Italy on penalties.
ITV1 had a less impressive night with a new run of hospital drama
The Royal
opening to only 5.1m (20.4%). The first episode of the last series, in the same 8pm to 9pm slot in September, drew 6.3m.
Vernon Kay gameshow
Beat The Star
attracted 5m (25%) from 6.45pm to 8pm on ITV1 and
Taggart
, over 90 minutes from 9pm, was watched by 3.7m (15.2%).
Big Brother
, despite attracting a relatively modest 2.4m (9.5%) from 9pm, was Channel 4's most-watched programme of the night, while Five film
Practical Magic
drew 1.2m (4.7%) between 8pm and 10pm.