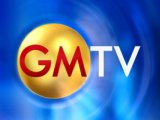 Weather presenter
Andrea McLean
is quitting breakfast TV broadcaster GMTV after 11 years.
McLean has signed a contract to present ITV1 lunchtime show
Loose Women
and said she plans to pursue other broadcasting and writing opportunities.
"I've been thinking about it for a while," she said in a statement. "The time is right for me to move on. After 11 years of getting up at 3.30 in the morning, I think I deserve a lie in.
"I've really enjoyed my time at GMTV. I've made some truly wonderful friends and know it's going to be a huge wrench leaving, but I'm really excited at being able to concentrate on new projects."
GMTV director of programmes Peter McHugh said: "Andrea's been brilliant and will be hugely missed by us and the viewers."