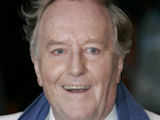 A cast of respected British actors will play Margaret Thatcher's allies and deserters in an upcoming BBC Two drama charting her political downfall.
Ian McDiarmid
(
Star Wars
) has been cast as her loyal husband Denis, James Fox (
A Passage To India
) as foreign policy advisor Charles Powell and Robert Hardy (
All Creatures Great and Small
) as Willie Whitelaw.
Others appearing include Philip Jackson (
Poirot
) as chief press secretary Bernard Ingham, Kevin McNally (
Pirates Of The Caribbean
) as Ken Clarke and Oliver Cotton (
The Commander
) as Michael Heseltine.
The
casting
of Lindsay Duncan in the lead role was announced earlier this year.
Robert Cooper, co-founder of producer Great Meadow Productions, said: "(Writer) Richard Cottan's dark and powerful drama intimately explores the strengths and tragic flaws of Margaret Thatcher's character that led to her closest political allies turning on her, precipitating her final, humiliating downfall.
"Most of all, it shows us a Margaret Thatcher - the woman who changed our lives more than any other in British history - that has never been seen before."