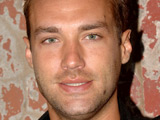 Calum Best
has described his new MTV
reality series
The Best Is Yet To Come
as a "life line".
The programme challenges Best to ditch his womanising ways by staying celibate for 50 days. It forms part of his
attempts
to ditch his current "seedy" image.
"I know what people thought of me. No-one took me seriously," Calum told the
Daily Star
. "Frankly, the last two years are a bit of a blur. I'd lost my way. I was on a downward spiral.
"I was lucky. I had a choice. Either I could have the kind of summer I usually have - drinking, shagging, wondering where the time went - or I could do something about it. So I decided to grab this show as a life line."
Best is now more than half-way through his challenge and has confirmed that he is thrilled with its positive effects.
"I'm training three times a week with a personal trainer. I'm eating healthily," he explained. "I'm never going to be a Buddhist monk. I'm not going to take a long-term vow of chastity and go and live in Tibet, but now at least for the time being I can focus on my work."