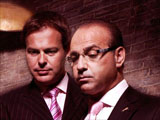 The current run of
Dragons' Den
ended with one of its best ever overnight audience figures yesterday (Monday).
The sixth series of the business-based show has averaged a strong 3.44m (14.4%) for BBC Two over the last eight weeks, up from the previous run's 3.07m (12.5%). Last night's episode put in 3.7m (15.9%), just shy of its record of 3.8m for an episode in 2006.
BBC Two was a comfortable third place for the hour, ahead of Channel 4's new four-part investigation
The Price Of Property
, with 1.18m (5.1%), and Five's
Extreme Fishing With Robson Green
, with 1.12m (4.8%). BBC One won the slot with 5.45m (23.4%) for a
New Tricks
repeat, while ITV1 drama
The Children
dropped 250,000 on
last week's opener
to average 4.68m (20.1%).
At 10pm, BBC One's news bulletin had a weighty 5.1m (26.2%) against
News At Ten
's 2.4m (12.5%). A repeat of new comedy
Harry & Paul
brought in 1.66m (8.6%) to BBC Two and on Five,
Bob Monkhouse's Comedy Heroes
interested 408,000 (2.4%). Channel 4 felt the loss of
Big Brother
from the slot with just 1.15m (8.7%) and 40,000 (0.6%) for the two-hour comedy movie
Keeping Mum
. Last week
Big Brother
had pulled in 2.55m (14.4%).
Two helpings of
Coronation Street
ruled the roost earlier in the evening, with audiences of 8.95m (43.8%) at 7.30pm and 8.56m (37.3%) at 8.30pm.
EastEnders
was sandwiched between the two editions with 8.03m (35.9%), a week-on-week fall of 600,000, but the soap picked up a further 560,000 (3.3%) with its later repeat on BBC Three.
Emmerdale
improved 200,000 to 6.55m (34.9%) at 7pm, while BBC One's
The One Show
held a steady 3.96m (21.1%).
A
Panorama
investigation into the destruction of the Amazon rainforest was seen by a poor 2.35m (10.2%) at 8.30pm, down from last week's 3.43m (14.4%). Half an hour earlier, ITV1's
Tonight
report on recycling efforts drew a much better 4.44m (19.9%).
BBC Two had a strong showing in the 8pm hour, too, starting with 2.84m (12.7%) for a Cambridge-Sheffield face-off in
University Challenge
. At 8.30pm, the final episode of
The Hairy Bakers
managed 3.38m (14.7%). Across its four-week run, the series has averaged a strong 3.33m (14.1%), up on the slot average of 2.61m (11.7%).
Channel 4's
Dispatches
special about kids' literacy had 781,000 (3.5%) for the hour and was almost beaten by Five's
Fifth Gear
, which delivered 770,000 (3.4%).
Coverage of Andy Murray's match against Roger Federer in the final of the US Open brought in a huge audience to Sky Sports 1 from 10pm. The average audience in the 11pm hour was a massive 1.13m (13.3%), more than any terrestrial broadcaster for the period. Murray eventually lost 6-2 7-5 6-2.
The other multichannels had a largely quiet night, meanwhile. ITV2 entertained decent audiences of 429,000 (2.1%) and 515,000 (3.4%) with a double-bill of
Hell's Kitchen USA
from 9pm, with additional audiences of 48,000 (0.3%) and 80,000 (0.9%) on timeshift.
MTV One's coverage of the
Video Music Awards 2008
, hosted by Russell Brand, had a middling 117,000 (0.7%) over two hours from 9pm. Sky1 peaked with 356,000 (1.7%) for a new episode of
Ross Kemp On Gangs
in the 9pm hour, while E4's top audience was 487,000 (3%) and 91,000 (0.5%) for first-look
Hollyoaks
at 7pm.