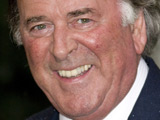 Juries are to return to next year's Eurovision Song Contest in a move to stamp out tactical voting.
Sir
Terry Wogan
quit
his commentating post earlier this year because of the apparent decision of some countries to vote together.
The 2009 final in Moscow will now feature votes from both viewers and a jury.
Wogan had called for a return to juries after Russia won this year's competition, having received the maximum 12 points from former Soviet states Estonia, Latvia, Lithuania, Ukraine, Belarus and Armenia, as well as Israel.
He accused the contest of becoming "ridiculous" and said he did not want to preside over "yet another debacle".
Eurovision executive supervisor Svante Stockselius said: "Nothing is more democratic than the vote of the public. But a jury takes the opportunity to listen to the songs several times before they make up their minds.
"In Belgrade, we saw a difference in judgment of the public and the back-up juries, and we believe a combination will make the show more interesting."