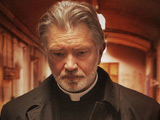 BBC One's controversial new drama
Apparitions
opened with 4.62m (20.6%) on Thursday night, according to early figures.
The series, which stars Martin Shaw as a priest with a penchant for exorcisms, drew far fewer viewers than
last week
's conclusion of
Silent Witness
in the slot, but was comfortably ahead of ITV1's
Cops with Cameras
, which had 3.49m (15.5%) in the 9pm hour.
Never Mind The Buzzcocks
on BBC Two was on par with 2.33m (10.3%) between 9pm and 9.30pm, while
The Graham Norton Show
pulled in 1.51m (6.8%) in the 30 minutes to 10pm. Over on Channel 4,
Rich Kid, Poor Kid
, a film exploring the UK's wealth gap, drew 2.61m (11.6%) while 1.27m (5.6%) opted for Five's
Danger Men
.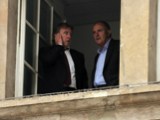 ITV1 was the clear leader at 8pm with the concluding part of
The Bill
's German special averaging 5.16m (22.7%) well ahead of BBC One's
Little Dorrit
, watched by 4.34m (19.2%) in the first half of the hour and
The People's Hospital
, which had 2.9m (12.7%) in the second. 3.31m (14.6%) opted for the Channel 4's series premiere of
Celebrity Come Dine With Me
, and the debut of
Secrets of Egypt
, a new documentary series on Five, was watched by 1.74m (7.7%). BBC Two rounded out the hour with only 1.72m (7.6%) watching Duncan Bannatyne's
Beat The Bank
.
EastEnders
at 7.30pm was the most-watched programme of the night with 8.52m (39.3%);
Emmerdale
, back to its usual 30 minute runtime, had 6.14m (30.3%) at 7pm.
At 6.30pm,
Hollyoaks
brought in 1.89m (9.5%) for Channel 4, with an impressive 761k (4.3%) tuning in for E4's first look at the next episode at 7pm (+1: 152k, 0.8%).
Overall in primetime, BBC One was ahead with an average share of 22.5% (last week: 23.4%) to ITV1's 18.5% (17.5%). Channel 4 posted a strong 10% average share (7.5%), followed by BBC Two on 7.1% (8.8%) and Five on 5.4% (5.1%).
Sky1 -
available for the first time
since March 2007 in Virgin Media cable homes - posted vast improvements across its entire primetime lineup; new
Bones
at 9pm was the most-watched multichannel programme of the night with 767k (3.9%), up a whopping 260k over the previous week.
Cold Case
at 10pm posted a similar improvement, averaging 379k (2.5%) for the hour.
Ratings data supplied by Attentional