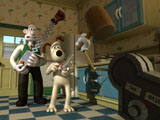 Wallace And Gromit
star
Peter Sallis
has admitted that he had initial misgivings about the famous runaway train chase in
The Wrong Trousers
.
Sallis said that he struggled to understand the appeal of the sequence, which sees Gromit furiously putting down train tracks as he pursues a criminal penguin.
He recalled that he confronted creator Nick Park about his concerns, saying: "I remember when I was recording the voice and watching this sequence with Gromit lying down in front of the train laying the track as he went along. I said, 'Look, Nick, this isn't going to work. We can't have him laying the track as it's going along, it just isn't going to work'. 'Trust me,' Nick said, so I shut up."
When the 30-minute film premiered to the public, Sallis was surprised by the audience's reaction to the elaborate set-piece.
"At the preview in Leicester Square, when it got to that bit the audience erupted," he said. "They were actually standing up and waving their programmes."
Sallis added that he and Park, who were sitting on the same row, leaned forward and looked at each other to acknowledge the success of the scene.
The latest
Wallace And Gromit
short,
A Matter Of Loaf And Death
, will debut this Christmas on BBC One.