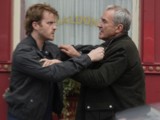 EastEnders
has triumphed in the latest head-to-head battle with
Emmerdale
.
Hour-long editions of the Yorkshire-based soap have tended to outrate
EastEnders
this year but in recent weeks the roles have reversed.
Last night
EastEnders
notched up 6.93m (31.1%) for BBC One from 7.30pm, while
Emmerdale
managed 6.22m (28.7%) for the 7pm hour. In the 30 minutes that both shows were on air,
Emmerdale
was down to 5.6m (25.2%).
A further 1.11m (6.3%) watched
EastEnders
at 10pm on BBC Three.
Hollyoaks
drew 2m (9.7%) to Channel 4 at 6.30pm (+1: 60k, 0.3%) and 737k (4%) to E4 at 7pm (+1: 109k, 0.6%). On Five,
Neighbours
put in 1.62m (10.3%) and
Home & Away
had 1.03m (5.4%).
Holby City
took 5.64m (24.9%) to win the 8pm hour for BBC One, while on ITV1,
Who Wants To Be A Millionaire?
interested 4.78m (21.1%).
BBC Two's
Natural World
welcomed 2.18m (9.7%) and on Channel 4,
Miss Naked Beauty
picked up 1.49m (6.6%) for the hour (+1: 145k, 0.7%). Five's
Special Forces Heroes
appealed to 1.32m (5.8%).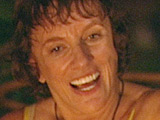 I'm A Celebrity
dominated the 9pm hour, drawing 7.86m (32.7%) to its latest update. A
New Tricks
repeat averaged 3.93m (16.4%) for BBC One, while Channel 4 documentary
Prince John: The Windsors' Tragic Secret
took 2.07m (8.7%). Five's
CSI: Miami
had a very strong 2.25m (9.4%) and BBC Two's
Horizon
managed 1.68m (7%).
ITV1's primetime share was up to 25.2% (
last week:
20.1%). BBC One averaged 21.8% (22%), BBC Two had 7% (7.3%), Five had 6.8% (6.1%) and Channel 4 had 6.1% (6%).
The start of a new series of
Charlie Brooker's Screenwipe
brought in the programme's best ever ratings, with 235k (1.7%) for BBC Four at 10.30pm.
On ITV2, spinoff show
Get Me Out Of Here Now!
drew 533k (3.4%) in the 10pm hour (+1: 103k, 1.4%) and on Sky1,
Stargate Atlantis
pulled in 407k (2.1%) for the 8pm hour.
Ratings data supplied by Attentional