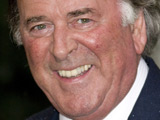 Sir
Terry Wogan
has brought an end to his 35-year stint hosting the Eurovision Song Contest.
The BBC presenter said the experience had been "nothing but laughter and fun" as the gauntlet was taken up by Graham Norton, reports
The Sun
.
Sir Terry previously
criticised
tactical voting from neighbouring Eastern European countries on the contest, which he called a "debacle" and said had dashed the UK's hopes in recent years.
The 70-year-old said: "I've had 35 wonderful years commentating on the Eurovision for radio and television. From my first, in a small music hall in Dublin, to my last, in the huge arena in Belgrade, it has been nothing but laughter and fun.
"The silly songs, the spectacle, the grandiose foolishness of it all. I'll be sad to leave it all behind, but I'll be watching and listening, and happy to leave it in the witty hands of Graham."
Norton, 45, said Sir Terry would be an "impossible act to follow", adding: "I can't wait to get to Moscow - with a combination of cheap vodka and a language barrier what could possibly go wrong?"
Norton will also host
Your Country Needs You
- Andrew Lloyd Webber's televised hunt to find an act to represent the UK in Russia next year. Eurovision recently announced a
shake-up
to the contest which will see juries reintroduced to the show.