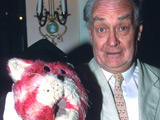 Bagpuss
creator
Oliver Postgate
has passed away, aged 83.
Postgate's other TV work included
Noggin The Nog
,
Ivor The Engine
and
The Clangers
.
He died at a nursing home in Broadstairs, Kent on Monday.
His shows were created by his own company Smallfilms, which he developed with puppeteer Peter Firmin. The duo began the company in a disused cowshed in Kent.
Postgate famously narrated all his Smallfilms programmes
Bagpuss
, which ran for 13 episodes from 1974, is regularly voted one of Britain's best-loved children's television shows, and earlier this year its rights were
sold
to media company Coolabi for £400,000.
Postgate stopped working in 1987, complaining that TV commissioners were not interested in his brand of children's entertainment anymore.