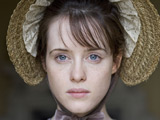 Little Dorrit
concluded its lengthy run with 4.18m (18.8%) in the 8pm hour on Wednesday night.
The Dickens adaptation - split over 12 half-hour and two one-hour episodes - has averaged a respectable 3.62m (17.4%) for BBC One.
The final episode was beaten in its slot by an episode of
The Bill
, which pulled in 5.15m (23.1%) for ITV1. A festive episode of
The Hairy Bakers
drew a sizable 3.12m (14%) to BBC Two and on Channel 4,
A Place In The Sun: Home Or Away
had 1.42m (6.4%). Five's
Secrets of Egypt
, this week looking at the Sphinx, brought in 1.32m (5.9%).
BBC Two's
Never Mind The Buzzcocks
received a boost at 9pm, logging a series high of 2.63m (12.2%).
The Graham Norton Show
was also up, averaging 1.93m (9.1%) from 9.30pm, then
Lead Balloon
put in 1.09m (5.7%).
BBC One's
Apparitions
was back down, averaging 3.01m (14.1%) in the 9pm hour, while a
Real Crime
special about Jamie Bulger interested 3.38m (15.8%) on ITV1. Channel 4's
The Pregnant Man
documentary pulled in 1.94m (9.1%), then Heather Mills'
Star Stories
took 1.06m (5.6%).
Five's screening of the comedy movie
Bad Santa
had an impressive 2m (10.5%) between 9pm and 11.05pm.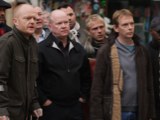 EastEnders
notched up the day's best numbers, with 6.91m (31.5%) tuning in at 7.30pm and 1.25m (7.3%) watching the BBC Three repeat. Another hour-long
Emmerdale
was a distant second place, averaging 5.98m (28.5%) in the 7pm hour.
Hollyoaks
put in 1.55m (7.9%) for Channel 4 at 6.30pm, then 623k (3.5%) for E4 at 7pm (+1: 107k, 0.6%). On Five,
Neighbours
had 1.5m (9.6%) and
Home & Away
had 1.04m (5.6%).
ITV1 and BBC One were tied in primetime, each with an average share of 20.2%.
Last week
I'm A Celebrity
had helped ITV1 to first place with 25.6% to BBC One's 23%. BBC Two was third this week with 9.3% (last week: 7.3%), followed by Five with 7.2% (6.5%) and Channel 4 with 6.2% (5.2%).
ITV2's screening of Matt Damon thriller
The Bourne Identity
proved particularly popular, with 759k (4.7%) watching between 9pm and 11.20pm.
BBC Three's
Kill It, Cook It, Eat It - Christmas Special
was also a hit, drawing 564k (3%) in the 9pm hour.
Ratings data supplied by Attentional