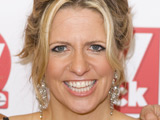 Loose Women
host
Jackie Brambles
has admitted that male celebrities are often frightened when they appear on the show.
The presenter confirmed that misconceptions about the programme result in men feeling nervous before they come on stage to be interviewed.
"A lot of men come on to the show thinking they're going to be ripped apart but that's not the case at all," Brambles told
Take 5
magazine. "We try to put people at ease and have fun with the guests. We recently had John Partridge, who plays Christian in
EastEnders
, and couldn't shut him up. He loved the show."
Brambles added that she gets frustrated with guests who are unfamiliar with the show's format and reluctant to offer their opinions.
"Nine out of ten people on the show are prepared - they know they will be asked their opinions on random subjects," she explained.
"Most guests embrace the spirit of the show, but, now and again, we get someone who isn't familiar with
Loose Women
and can't understand what's going on when we invite them into a debate. They're used to being interviewed about a product they are endorsing."