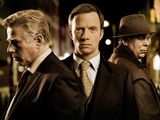 Murder thriller
Whitechapel
ended its run last night with an impressive 7.55m (30%) in the 9pm hour for ITV1.
The drama, about a modern-day copycat of Jack The Ripper, averaged a very strong 7.61m across its three-part run, making it one of ITV1's most successful shows of the year to date.
It beat BBC One's
Who Do You Think You Are?
- this week featuring Rick Stein - with 5.45m (21.6%) in the hour.
BBC Two's three-part crime drama
Moses Jones
, starring future
Doctor Who
lead Matt Smith, bowed out with a miserable 1m (4%).
Channel 4 doc
The Gangster and The Pervert Peer
, about criminal twins the Krays, drew 1.24m (4.9%) and Five movie
Windtalkers
kept 1.15m (6%) until 11.35pm.
The second
University Challenge
semi brought in 3.64m (14.4%) to BBC Two at 8pm, then a new week of
MasterChef
began with 3.92m (15.2%).
Channel 4's
Dispatches: The Big Job Hunt
, detailing rising unemployment in the UK, had 970k (3.8%) in the 8pm hour and on Five,
Fifth Gear
appealed to 838k (3.3%).
Two visits to
Coronation Street
brought in audiences of 9.91m (41.2%) and 10.04m (38.9%) at 7.30pm and 8.30pm respectively, while BBC One's
EastEnders
put in 9.59m (37.9%) at 8pm.
Emmerdale
took 7.59m (34.2%) at 7pm.
Hollyoaks
picked up 1.9m (8.9%) for Channel 4 at 6.30pm, and on Five,
Neighbours
had 1.7m (10.5%) and
Home & Away
had 1.1m (5.6%).
ITV1 dominated primetime with an average share of 27.8% to BBC One's 22.1%. BBC Two was third with 7.8%, while Channel 4 lagged with a miserable 4.4% (+1: 0.7%). Five was in last on 3.8%.
Sky1's
24
took a reduced 448k (2%) in the 9pm hour, beaten by a
Gavin & Stacey
repeat on BBC Three with 544k (2.4%) over 30 minutes.
Elsewhere,
America's Next Top Model
interested a decent 410k (1.8%) for Living at 9pm.
Ratings data supplied by Attentional