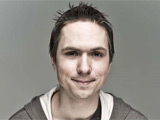 Inbetweeners
actor
Joe Thomas
will star in
BBC
Switch's new comedy show
Winging It
.
The actor-turned-comedian, who plays Simon Cooper in the E4 comedy, will be joined by new talent including Tom Deacon, Rhys Thomas and Holly Walsh.
The show will see the comedians thrust into real-life scenarios and forced to improvise their way out.
Each comic will be given a mission statement before being guided through their assignment by the masked 'Wing Commander', who will speak to them via a hidden earpiece.
They must convince unsuspecting members of the public that they are experts in a field they know nothing about, or else be exposed if the audience realise that they are "winging it".
Winging It
is due to premiere in April.