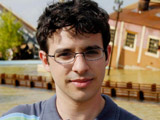 Simon Bird
has said that his show
The Inbetweeners
gives viewers a more realistic depiction of teenage life than
Skins
.
The actor, who plays Will Mackenzie in the show, told the
BBC
that the cast often misbehave on set because they are dressed in school uniform.
Bird said: "
Skins
is great because it's this fantasy of what you want your teenage years to be whereas
The Inbetweeners
is what your teenage years actually were."
Co-star Joe Thomas said: "
The Inbetweeners
is more the time you spend not having the night that you thought you were gonna be having."
"Waiting to get somewhere, waiting for a bus to take you to a village [where] you might get into somebody's house party, that's the territory that we're involved in."
He added that the programmes competing with the show in the best situation comedy category at
the BAFTAs
were "a bit cerebral", and that it was "nice to have something that was a bit more about people being sick".
> Click here to read our interview with Simon Bird