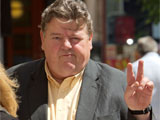 ITV
has commissioned
Murderland
, a new thriller starring
Robbie Coltrane
.
The three-part series will feature the story of one murder told from three different perspectives: Carrie, the daughter of the murdered woman, Hain (Coltrane), the detective in charge of the investigation and Sally, the victim.
"Following the success of ITV1's Monday night thriller season, we're delighted to commission
Murderland
," said director of ITV commissioning Laura Mackie.
"It's also a great coup to have Robbie Coltrane return to ITV1 Drama in the role of Gordon Hain."
Filming on the drama is due to begin in June.