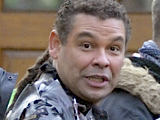 Craig Charles
has expressed his joy at playing the role of Dave Lister in the one-off
Red Dwarf
special
Back To Earth
.
The actor told the
BBC
that he used the same outfit that he wore when filming the fifth series of the show.
Charles said: "This is the costume from 1992. It still fits, I'm really chuffed. It's a great feeling.
"You put on the boots and the leather trousers - and you start to get the Lister walk. Then the leather jacket and the dreadlocks go on and suddenly you're Dave Lister again."
He added: "The banter's still the same. It's like we never went away. This plot is amazing. It's more of a comedy-drama than a sitcom.
"On Lister's part it's much more emotional. He cries his eyes out in this. I think it's going to surprise a lot of people, the emotional maturity of the piece."
Co-star Chris Barrie has
suggested
that the Easter special could spark a film or mini-series comeback for the programme.