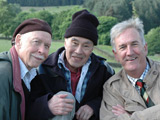 Last Of The Summer Wine
star
Peter Sallis
has said that a row over politics almost ended the series before it even got started.
Sallis told Radio 4's
Desert Island Discs
that his co-stars Michael Bates and Bill Owen were at odds with each other when they met because of their political alignments.
"Michael was slightly to the right of Margaret Thatcher and Bill was slightly to the left of Lenin. Within minutes they were shouting at each other," he said.
"Not only was it embarrassing but it was incomprehensible because I have never had a political thought in my life."
The argument was eventually resolved after the show's director Jimmy Gilbert removed both Owen and Bates from the restaurant they were eating at and confronted them.
Weeks later, Sallis found out that Gilbert threatened to "pack up the whole thing" if the pair spoke about politics with each other ever again.