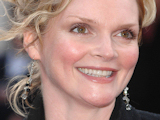 Sharon Small, Amanda Hale and David Gyasi have been added to the cast of ITV1's
Murderland
.
The 3 x 60-minute drama, written by David Pirie and directed by Catherine Morshead, stars the previously
announced
Robbie Coltrane
.
Lucy Cohu, Nicholas Gleaves, David Westhead, Andrew Tiernan and Bel Powley are also confirmed for the project, which features one murder told from three different perspectives.
"Robbie Coltrane heads a marvellous cast and combining the talents of David Pirie and Catherine Morshead on this project is a delicious prospect," said producer Kate Croft.
"
Murderland
promises to be as much a why-dunit as a whodunit. As much a love story as a murder story."