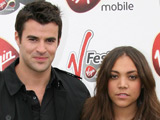 Steve Jones
has admitted that he loves being confronted by publicists who are worried that he will "be weird" in interviews.
The
T4
presenter, who is known for his off-beat interviewing style, told
DS
that it is a "testament" to the show's popularity that American publicists know what their clients might face.
"Recently I've been stopped by publicists who say, 'Don't do a
T4
interview! Can you just be a bit more serious because it's Reese Witherspoon, she's not at her best so can you just not do anything crazy please?'" he explained.
"I like the fact that American publicists know
T4
well enough to say, 'Can you not be weird?' That makes me very happy! And, just for the record, Reese was fantastic, it was just her publicist! She was brilliant and I could ask her what I liked."
Co-presenter Miquita Oliver added: "Yeah, 80% of the time the people are like, 'Can you not, can you not' and when you do, the person always looks relieved to be genuinely excited by the interview."
Jones and Oliver will host this year's T4 On The Beach in Weston-super-Mare on July 19. The event will be broadcast across Channel 4 and 4Music. For more info, go to www.channel4.com/t4onthebeach
> Click here to read our interview with Steve Jones and Miquita Oliver