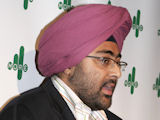 Hardeep Singh Kohli
has been suspended from
The One Show
for six months after being accused of behaving inappropriately towards a female colleague.
Show producers received a complaint from the woman in question two months ago after the roving reporter allegedly "pestered" her at work, according to the
Sunday Mirror
.
It is believed that the 39-year-old was instructed to apologise to the researcher following a showdown with his bosses.
A BBC spokeswoman confirmed: "The producers of
The One Show
received a complaint regarding Hardeep's behaviour towards a production colleague. Hardeep was reprimanded and immediately apologised.
"He agreed to take some time away from the show to reflect on his behaviour. This leave of absence has been agreed to be six months."
In a statement, Kohli insisted: "Nobody has accused me of sexual harassment. I recognise that I overstepped the mark and have apologised unreservedly."
The presenter has a 16-year-old daughter and 11-year-old son, but is currently single after splitting from his wife Sharmila two years ago.
This is the second time that
The One Show
has been embroiled in scandal this year. In February, Carol Thatcher was
axed
from the programme for good after referring to a tennis player as a "golliwog" backstage.