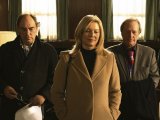 Amanda Redman
has revealed that she fears losing out on lucrative TV roles because of her age.
The 49-year-old actress admitted that she may struggle to find work again once her BBC One crime drama
New Tricks
comes to an end.
Speaking to
The Mirror
, she explained: "I don't stop worrying about it. It is all very good being in
New Tricks
and for as long as that goes on, that is fine.
"Outside the roles are not there. In our industry there is never going to be anything other than young and beautiful. That is great, but there is room for the rest of us. People do get interesting as they get older!"
Redman added that she tries to boost her future career prospects by making daily visits to the gym.
"I do three hours every day. I do get addicted and I hate it but I go because I have to," she said. "As you get older, TV becomes more difficult. The shots of your arms, tops and lines are magnified. It is not how you see yourself in the street."
The star has previously appeared in ITV1's
Honest
and
At Home With The Braithwaites
.