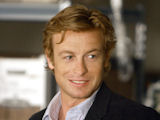 Five's
The Mentalist
hit a new series low last night, according to early viewing figures.
The crime drama, starring
Simon Baker
as Patrick Jane, was seen by just 1.61m (6.8%) during the 9pm hour, logging the lowest audience figure since the series began earlier this year.
The series
opened
to a strong 3.69m (16.7%) on Thursday, March 26, and has steadily declined since then.
Earlier on Five,
Headshrinkers Of The Amazon - Revealed
managed 715k (3.5%).
Over on
BBC
One,
As Seen On TV
put in 2.72m (13.9%) between 8pm and 8.30pm, then 2.56m (12%) tuned in for
The Rat Pack
. The 9pm screening of
New Trick
had 6.76m (28.8%), making it the most-watched programme during the hour.
Rick Stein's Far Eastern Odyssey
interested 2.39m (11.7%) for BBC Two during the 8pm hour. The audience then dipped to 2.34m (10%) during the half-hour
Mock The Week
at 9pm, and
Never Mind The Buzzcocks
managed 1.57m (6.7%). Later, at 10pm,
Psychoville
attracted 1.08m (5.5%).
Channel 4's
The Home Show
was seen by 1.79m (8.7%) at 8pm.
The World's Oldest Mums
followed at 9pm, drawing 2.01m (8.6%), then
Big Brother
put in 2.04m (11.9%).
ITV1's
The Bill
took 4.5m (19.2%) during the 9pm hour.
Overall, BBC One came top during primetime with an average share of 23.9% to ITV1's 22.7%. Channel 4 was third with 8.3% (+1: 0.9%), followed by BBC Two with 7.9% and Five's 4.6%.
Elsewhere, BBC Three documentary
Boob Job - My Big Decision
grabbed 516k (2.5%) at 9pm, beating ITV2's
America's Got Talent
, which managed 355k (1.7%).
BARB ratings data supplied by Attentional