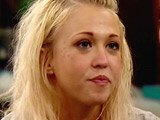 Last night's
Big Brother
highlights drew 2m (9.3%) for Channel 4, according to early viewing figures.
The 9pm show came fourth during its timeslot and was down 1.45m on last year's equivalent episode, which drew 3.45m (18.6%) on Tuesday, August 12 during the 10pm hour. The drop represents a decline of 42% year-on-year.
A sizeable 542k (3.4%) watched the show on Channel 4+1.
It was beaten by
BBC
One's
Crimewatch On The Streets
, which had 3.33m (15.5%);
Car Crime UK
, which logged 2.77m (12.9%) for ITV1; and Five's latest
CSI: Miami
episode, which averaged 2.66m (12.3%).
Desperate Romantics
- starring
Aidan Turner
and Rafe Spall - came last during the 9pm hour, drawing 1.74m (8.1%) for BBC Two.
BBC One's
Holby City
came top during the 8pm hour, pulling in 5.13m (23.9%). Its nearest rival,
Send In The Dogs
, managed 3.47m (16.3%) for ITV1.
Coast
took 3.2m (15%) for BBC Two, 1.82m (8.6%) watched Channel 4's
Property Snakes And Ladders
, and Five's
Big, Bigger, Biggest
logged 797k (3.7%).
Overall, BBC One dominated primetime with an average share of 22.3% to ITV1's 15.7%. BBC Two was third with 9.5%, followed by Channel 4 with 7.1% (+1: 1.4%) and Five's 6.9%.
Elsewhere, BBC Three documentary
The Autistic Me
put in 679k (3.4%) at 9pm, beating E4's screening of the next
Ugly Betty
instalment, which had 457k (2.3%), and
episode 13
of
Dollhouse
, which took 120k (0.6%) for Sci Fi.
BARB ratings data supplied by Attentional