TV News
Harry Enfield show moves to BBC Two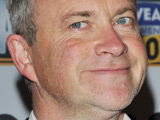 Harry Enfield
and Paul Whitehouse's sketch show has been demoted to BBC Two because of low viewing figures, reports
Chortle
.
Ruddy Hell! It's Harry and Paul
aired for two series on BBC One and was one of the top ten viewed comedy shows of 2007. However, Enfield revealed at today's Broadcast TV Comedy Forum that the show has been moved by the broadcaster.
"It's now going to be on Two, because we only got five million viewers," he said. "Everyone says that's better for comedy anyway.
"The BBC have management targets, and I don't have to get involved in all that - at least not until they say 'You're fired'."
Enfield also spoke about his critically slated 2000 Sky series
Brand Spanking New Show
, admitting that the programme's faults were down to him.
"I was doing [the movie]
Kevin & Perry Go Large
at the time and I had my eye off the ball. I didn't go into the edits," he said. "There were some good sketches, but they appeared to be performed by someone in a panic. I got a kicking for it, quite rightly."