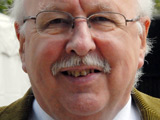 Weather presenter
Michael Fish
has come out of retirement to work on GMTV for a week.
The TV veteran, who was awarded an MBE in 2004 for services to broadcasting, will return to celebrate the anniversary of his infamous 1987 hurricane prediction.
Fish told viewers 22 years ago that there would only be light winds for Southern England on the night of October 15, but the date saw the worst storms in the region in living memory.
He will appear on GMTV to mark the event's anniversary from October 12 to 16.
"I was thrilled to get the call from GMTV. It's great to keep my hand in and see how the other side works too," said Fish.
GMTV weather presenter Kirsty McCabe added: "I'm delighted to meet up with Mike again. When I first started at the BBC he trained me, now I've been showing him the ropes here. It's lovely to see him back."