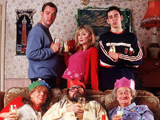 A camera fault reportedly ruined two days' worth of footage for
The Royle Family
Christmas special at an estimated cost of £100,000.
Writer Phil Mealey said that a tiny object had dropped in the lens, ruining the film and resulting in the cast being recalled. "When we looked at the footage, it was like my holiday photographs - everyone's head was cut off. Everything was lost. We were absolutely gutted," he told
The Daily Telegraph
.
"The camera had been checked and what was coming through on the monitors in the studio was fine. But a ground glass piece or something had dropped in the lens. It was like going to Boots with your wedding snaps ruined but on a massive scale."
Mealey estimated that the fault may have cost Jellylegs, the independent production company that he co-owns, about £100,000. "All that kind of thing is insured in the event of something happening. It's just one of those things. And we're delighted with the finished product. There are some very funny scenes in it," he said.
This year's festive episode, called
The Golden Egg Cup
, airs on BBC One at 9pm on Christmas Day.