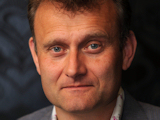 Hugh Dennis
has admitted that he sometimes finds it hard to answer the children in
Outnumbered
.
Dennis, who plays father Pete in the sitcom, told the
Daily Record
that he enjoys working on the sitcom.
"If there's a scene between two children, it will be entirely improvised," he explained. "If it's between two adults, it's not really improvised, and if there's a scene between adults and children the adults' part is slightly improvised as you have absolutely no idea what they're going to say.
"That's [writers] Andy [Hamilton] and Guy [Jenkins]'s skill really but I think it helps to have kids of your own."
Dennis added that one time he struggled to improvise was when Ramona Marquez, who plays Karen, asked him about terrorists.
"The closest I've been was when we were stuck at the airport in series two when Karen started talking about killing bad people," he explained. "It was amazing. She was absolutely fantastic doing it and I wanted to stop and listen. I forgot I had to react."
Outnumbered
recently
won
three gongs at the British Comedy Awards.