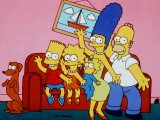 The Simpsons
has been voted the best ever cartoon in a poll conducted by Channel 4.
The Springfield family came above Hanna Barbera's cat and mouse duo
Tom And Jerry
, who were in second place, followed by Matt Stone and Trey Parker's
South Park
.
Toy Story
and
Family Guy
completed the top five.
Scotsman.com quotes Professor Alistair McCleery, who includes a lecture about
The Simpsons
in his sociology course at Napier University, as saying: "It is very funny and extremely successful, although we cannot know if it will still be watched in 50 years time.
"It is very much of its time and it reflects the concerns of our age. In the past, there was a distinct division between high and low culture but in
The Simpsons
there is no division.
"When people watch
Star Wars
and
Star Trek
they realise that they illustrate aspects of US culture at that time.
The Simpsons
is in the same league, and deliberately so."