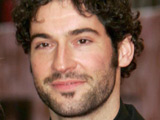 Tom Ellis
has compared two characters from BBC One's
Miranda
to Ross and Rachel on
Friends
.
Speaking exclusively to
Digital Spy
, Ellis - Gary in
Miranda
- revealed that the show's writers are likely to draw out the potential romance between Miranda and his alter ego, mirroring the story played out by David Schwimmer and Jennifer Aniston.
Asked if they will end up together romantically, he replied: "I don't know because if they do, that will be the show over in many ways. They'll tease it out for a bit - it's the new Ross and Rachel, apparently!"
Ellis also said that he has become good friends with Miranda Hart through the series, and is "very much looking forward" to starting work on the
second run
.