TV News
Chicken defecates on Alan Titchmarsh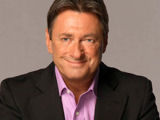 A chicken pooed on
Alan Titchmarsh
during filming on his live ITV1 chatshow yesterday.
The
Popstar To Operastar
host and TV gardener was introducing the chickens to the audience when one defecated down his jacket.
"Welcome to the joys of live TV," laughed the 60-year-old presenter afterwards.
Titchmarsh had the chickens on his show to talk about how they had grouped together with a cockerel and killed a fox in Basildon, Essex.