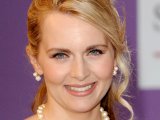 Debra Stephenson
has said that she tries not to worry about how celebrities will react to her performances on
The Impressions Show
.
The BBC sketch programme, which launched last October, sees Stephenson teaming up with Jon Culshaw to send up a number of celebrities, including Cheryl Cole, Davina McCall and Lorraine Kelly.
Speaking to the
Daily Record
about the project, Stephenson commented: "I've not heard of anyone reacting badly to it but maybe it's just too embarrassing for them to admit it. At the moment I'm not worrying."
The actress continued: "Apparently Davina was really into it, which I'm so pleased about. It was so much fun and I'm hoping that it's always going to be taken in the way that it's intended.
"With someone like Lorraine Kelly I hope she doesn't mind because they say imitation is the highest form of flattery and it's never done in a horrible way, always a nice way, even if sometimes it was a little bit cheeky."
Stephenson first started doing impressions as a teenager and performed stand-up comedy before rising to prominence with roles in
Bad Girls
and
Coronation Street
.