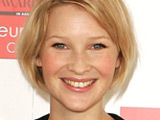 Joanna Page
has revealed that her favourite scenes from
Gavin & Stacey
involved a stripper.
The actress, who played the title role of Stacey Shipman in the BBC sitcom, admitted that her first ever experience of a male lapdancer came during filming of the first series.
"It's probably a bit dirty but I always loved the stripper bits in series one because I couldn't believe they got me a real stripper," she told
This Morning
.
"I had never experienced a real stripper and I don't want to experience again a real stripper! But I think I'll always remember that time."
Page, who is currently working on Sky1's
My Pet Shame
, also said that she would be happy if Ruth Jones and James Corden didn't write any more episodes.
"Everyone did say to Ruth and James, 'Write some more', but I don't think we'll do another series - I don't know if they'd do a special or... I have no idea, but at the moment there isn't going to be any more," she added.
"Which is quite nice to go out when people still enjoy it and it'll always be a fab show and great memories."