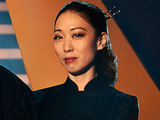 Iron Chef UK
star
Judy Joo
has said that the show is "one of the most stressful things" she has ever done.
Joo, who is one of the four Iron Chefs on the new Channel 4 series, studied Engineering and Applied Science and worked on Wall Street for Morgan Stanley, before taking up a career in food.
Speaking about the difficulties of
Iron Chef
compared to her previous work, Joo said: "It is totally up there, just because there are so many different elements in play - you're trying to cook, but then you're being interviewed on TV at the same time.
"You're trying to manage your sous chefs and then you're trying to keep track of the time, and all the equipment's a bit unfamiliar. It's like being in a fish tank where everybody's watching everything you do, and you have to try and forget that. It was stressful on many different levels - probably one of the most stressful things I've ever done in my whole life."
The Korean-American cook also backed the show to become a cult hit, claiming that the show's "theatrics" were the key to its success in America and Japan.
"It's so dramatic and full or surprises, it's extremely entertaining, there's a real element of suspense, and you've got some great chefs on there cooking amazing food," she said. "It's got all the components of a very successful format, I think people will really enjoy it."
Iron Chef UK
airs on weekdays at 5pm on Channel 4.