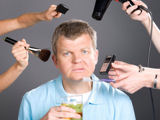 The leaders of the UK's three main political parties have paid tribute to
Adrian Chiles
, during the presenter's
final appearance
as host of
The One Show
.
Chiles seemed stunned as Gordon Brown, David Cameron and Nick Clegg sent him messages of good luck for his future career.
According to
The Mirror
, Prime Minister Gordon Brown said: "Adrian I think I last had a long talk with you at the Olympics when you did such a marvellous job presenting there, but you've done amazing things on
The One Show
and sports and everything else you've done in reporting, and you've simply done a great job that makes us all proud.
"And when we talk and meet up, you talk about West Bromwich Albion all the time and I talk about Raith Rovers all the time. At least West Bromwich are going up, I'm afraid Raith Rovers are stuck where they are.
"But my best wishes to you in everything you do in your future career."
Conservative leader David Cameron said: "So Adrian you're moving on, it's been great appearing on your show, wonderful watching you on
The One Show
, I don't know how they're gonna do without you, best of luck for the future."
Meanwhile, Liberal Democrat leader Nick Clegg said: "Adrian, all the best with your move, one of the most unforgettable things I've done since becoming leader of the Liberal Democrats is handling miniature hedgehogs on your
One Show
.
"You are indelibly etched on my memory for that reason alone."
Chiles said that he could not believe that the tribute was real.
"I thought that must be a lookalike - unbelievable," he said.
The presenter is leaving the BBC to join GMTV in a deal thought to be worth up to £6m over four years, after a
row
with the channel over the Friday night slot.
> Ten Things You Never Knew About Adrian Chiles