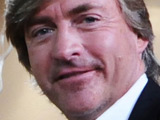 New celebrity sailing programme
All At Sea
debuted to modest ratings for ITV1 on Thursday, according to early viewing figures.
The programme, in which celebrities such as
Richard Madeley
and Dawn Porter sail around the south coast of Britain, pulled in 3.55m (15.6%) for ITV1 from 9pm.
However, the show was soundly beaten by BBC One in the 9pm hour, with
Have I Got News For You
attracting an impressive 5.76m (24.9%) and sitcom
Outnumbered
appealing to 5.7m (24.9%).
Earlier on BBC One,
Watchdog
averaged 3.79m (17.1%) from 8pm.
On Channel 4,
Location, Location, Location
pulled in 2.47m (11.2%) from 8pm and 291k (1.3%) on timeshift, followed by the return of
How The Other Half Live
, with 1.65m (7.3%) and 206k (1.6%) on timeshift.
In the 10pm hour, Charlie Brooker's
You Have Been Watching
attracted 760k (4.2%) for Channel 4 and 81k (0.8%) on timeshift.
Monty Halls's Great Hebridean Escape
appealed to 1.2m (6.1%) for BBC Two from 7pm, followed by
Bill Oddie's Top Ten Aliens
with 1.43m (6.5%).
The second episode of new series
History Cold Case
attracted 1.63m (7.1%) for BBC Two in the 9pm hour, down 200k week-on-week.
Britain's Greatest Machines with Chris Barrie
gained 539k (2.4%) for Five in the 8pm hour. A screening of
Pistol Whipped
followed with 1.6m (6.2%).
Overall, BBC One comfortably controlled primetime with a share of 24.2% to ITV1's 20.6%. Channel 4 came in third with 6.9% (+1: 0.8%), followed by BBC Two with 6.1% and Five with 4%.
Elsewhere,
American Idol
appealed to 371k (1.6%) for ITV2 from 9pm and 66k (0.4%) on timeshift, while a repeat of
EastEnders
pulled in 942k (4.7%) for BBC Three from 10pm.
BARB ratings data supplied by Attentional