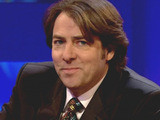 Prince has reportedly signed up to appear on the final episode of
Friday Night With Jonathan Ross
.
Ross
announced
earlier this year that he has decided to leave the BBC and the last edition of his show will air in July.
He allegedly revealed the news while talking to
Comic News Insider
and admitted that he is thrilled the star will be appearing.
The presenter added that he is almost ready to sign a deal with another channel, saying: "I've got something lined up but I'm not talking about it."
> Brand hopes to appear on Ross show