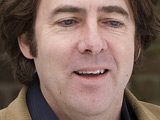 Jonathan Ross
has been confirmed as the host of this year's British Comedy Awards.
Channel 4 recently
acquired
the rights to the awards and has promised to revert to a live broadcast of the ceremony after the watershed.
Ross said that he is "delighted" to land the hosting job and added: "The British Comedy Awards is, in my opinion, the most exciting, entertaining and challenging award show on British TV."
Meanwhile, Channel 4's head of comedy Shane Allen said: "The British Comedy Awards is a national institution, and Jonathan Ross is an enormous part of what makes it such a consistently must-watch event. We're thrilled that he will host our reinvigorated coverage."
Ross, who has hosted the awards several times in the past,
missed
the 2008 ceremony following the Sachsgate scandal but
returned
last year.