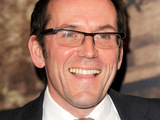 Ben Miller
has joked that he had a "comedy affair" with Alexander Armstrong.
The duo appear together in
The Armstrong and Miller Show
but Miller has now revealed that his sidekick was involved in another double act when they met.
"It was kind of love at first sight," Miller told
PA
. "This is a terrible thing to admit, but I went to see him in a double act that he was actually already in and I just thought he was the funniest person I'd ever seen in my life."
Miller explained that he tried to persuade Armstrong to team up with him instead.
"I was trying to encourage him to have an affair really, I suppose," he said. "Meeting in bars and showing him a sketch and him saying, 'I can't look at it, I'm in a double act already'."
Miller added that he felt like he was having an affair when he met Armstrong's former comedy partner.
"We did start having a comedy affair and at one point we decided we should make a go of it maybe, but he still hadn't told his double act partner," he explained.
"And we were walking down the street with comedy props we'd bought for our show and bumped into his partner on the street. It's like being caught in bed with somebody by their husband. And sometimes the mistress doesn't get to stay with the unfaithful partner, but in this case it worked out."
Armstrong and Miller recently
won
the BAFTA for 'Best Comedy Programme'.