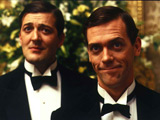 Stephen Fry
and Hugh Laurie will reunite on television for a new special.
The Sun
reports that the pair will appear on GOLD to celebrate the fact that 30 years have passed since they first collaborated.
Fry and Laurie are expected to talk about their old sketches and chat to guests including Jo Brand and Jack Dee. The duo have not worked together for some time, although Laurie has appeared on Fry's show
QI
.
"It was a great joy reminiscing," Fry said. "I hope GOLD viewers enjoy watching us grow older and older."
Fry & Laurie Reunited
is expected to air on GOLD in the autumn.