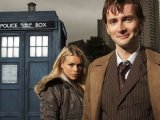 Filming for the next series of
Doctor Who
is being disrupted by fans with cameras.
Devoted fans visited Cardiff to watch David Tennant and Billie Piper film for series two, however flashes and noises from cameras caused chaos.
A BBC spokeswoman told
The Mirror
, "Filming last week was disrupted by cameras with flash and those that made a beep every time they took a picture.
"Both are enough to stop a take and it takes a long time for the entire cast and crew to reset for another go. The most important request is please don't take photographs during an actual take."