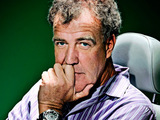 Jeremy Clarkson
has revealed that the BBC ordered him not to cook for guests due to health and safety regulations.
While filming for series 15 of
Top Gear
, Clarkson put on a barbeque for guests Louie Spence and Al Murray. However, the corporation phoned the presenter to inform him that he was breaching rules.
Clarkson told
The Sun
: "I was in the middle of offering everyone a sausage when we got a call saying as we hadn't been trained properly, we weren't allowed to give the food we had cooked to any guests.
"It meant we had to eat it ourselves while our guests went hungry. We don't normally listen to rules - and of course we couldn't stop anyone stealing bits of food."
Peter Jones, who was also present at the event, added: "We couldn't eat any of the food. Clarkson thought it was hysterical - but they were really serious about it."
Top Gear
returns next Sunday at 9pm on BBC Two.