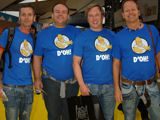 Jonathan Ross
's house band are reportedly in talks to get their own show.
4 Poofs And A Piano are a regular feature on
Friday Night With Jonathan Ross
and
The Sun
claims that they are now planning new ventures.
The band have allegedly already signed up to take part in a tour and have landed a cameo in the ITV1 sitcom
Benidorm
.
Ian Parkin, who sings with the group, told the
Radio Times
: "Everyone loves it. But it's the husbands who come up at the end of the night and hug us - they're not frightened of us any more. I like to think we've broken down a few barriers."
The
final
Friday Night With Jonathan Ross
will air on July 16 on BBC One.