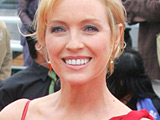 The cast of
Packed to the Rafters
have revealed that having a baby on set makes them broody.
The stars of the Australian television show, which returned to screens for a third season earlier this week, said that the "energy" on set has changed since twin girls arrived to play Ruby, the newest addition to the Rafter family.
Jessica Marais, who plays elder daughter Rachel, told
New Idea
magazine: "It makes everyone much more quiet and careful. There is a really nurturing energy that comes from people when they are around new life. Every time we get a smile everyone melts."
Angus McLaren, the actor who plays youngest son Nathan, said: "They smile and laugh at the right moments as if they know what they were there to do. I think we can safely debunk the old film saying 'Never work with children or animals', because the babies we have are absolute treasures."
Award-winning star
Rebecca Gibney
, who portrays mother Julie, said: "No acting is required [to play a new mum] - it all comes flooding back!
"The looks on our faces when we hold Ruby for the first time - it all just comes back to you and how you felt when you held your own newborn for the first time."
Gibney has a 6-year-old son called Zac.